Tripawds is a user-supported community. Thank you for your support!
Howl-o! I'm Lotus! My foster mom calls me Lucky Lotus. Here's why!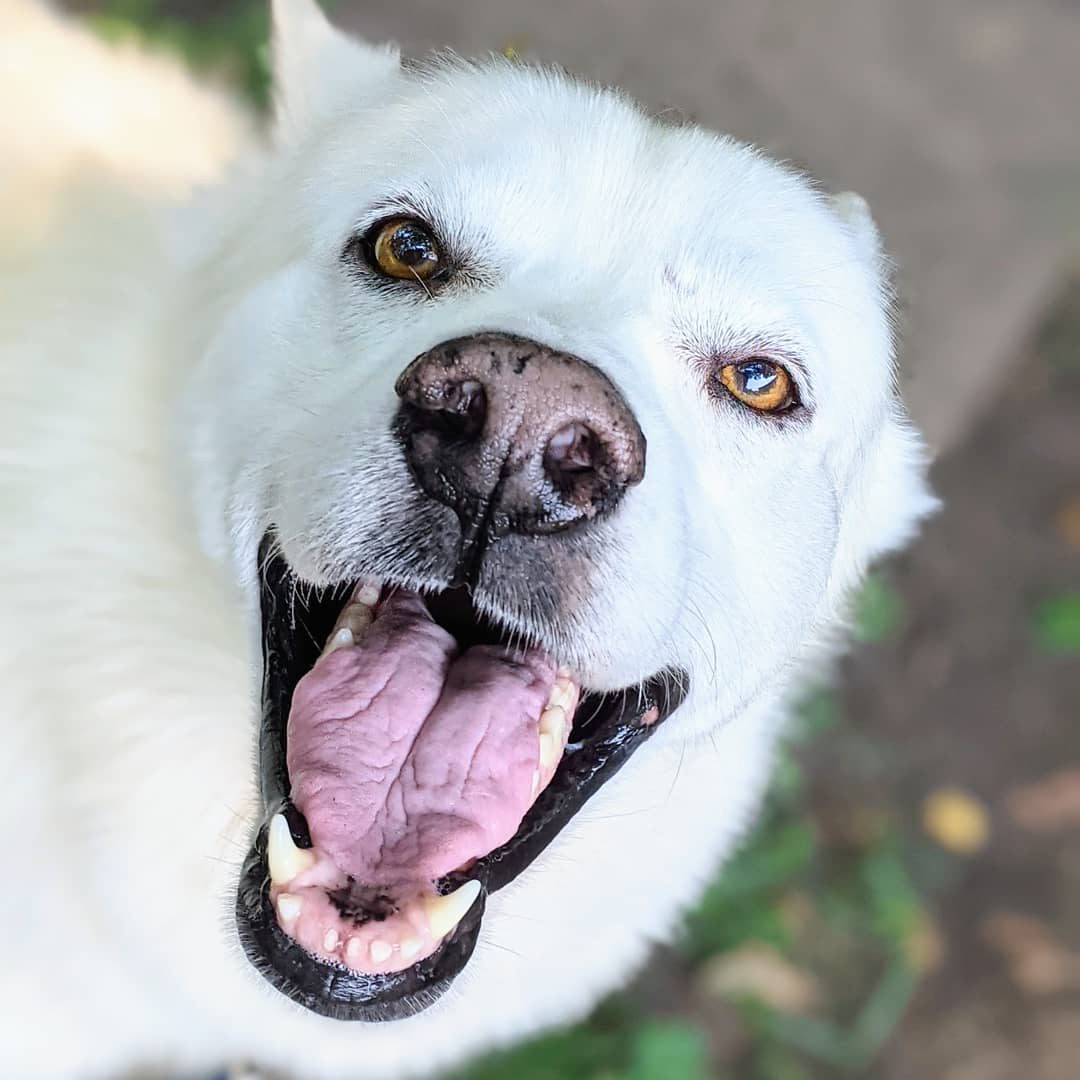 On July 9, 2021 my foster mom got a message from the Husky and Malamute Rescue she volunteers for, asking if a 14 year old cat-friendly boy looking for a foster would be her cup of tea. My foster family has 3 similar aged senior dogs already so it seemed like a no-brainer! Foster mom talked to foster dad and about 30 minutes later plans were being made for me to take a car ride from Arkansas to Iowa.
I was found chained to a tree by a rescue partner of Taysia Blue Rescue. They were picking up a litter of small dogs that were being abandoned and asked what was going on with me. The hooman said I was 14 and going to die anyway! So, thank dog, they brought me to rescue too.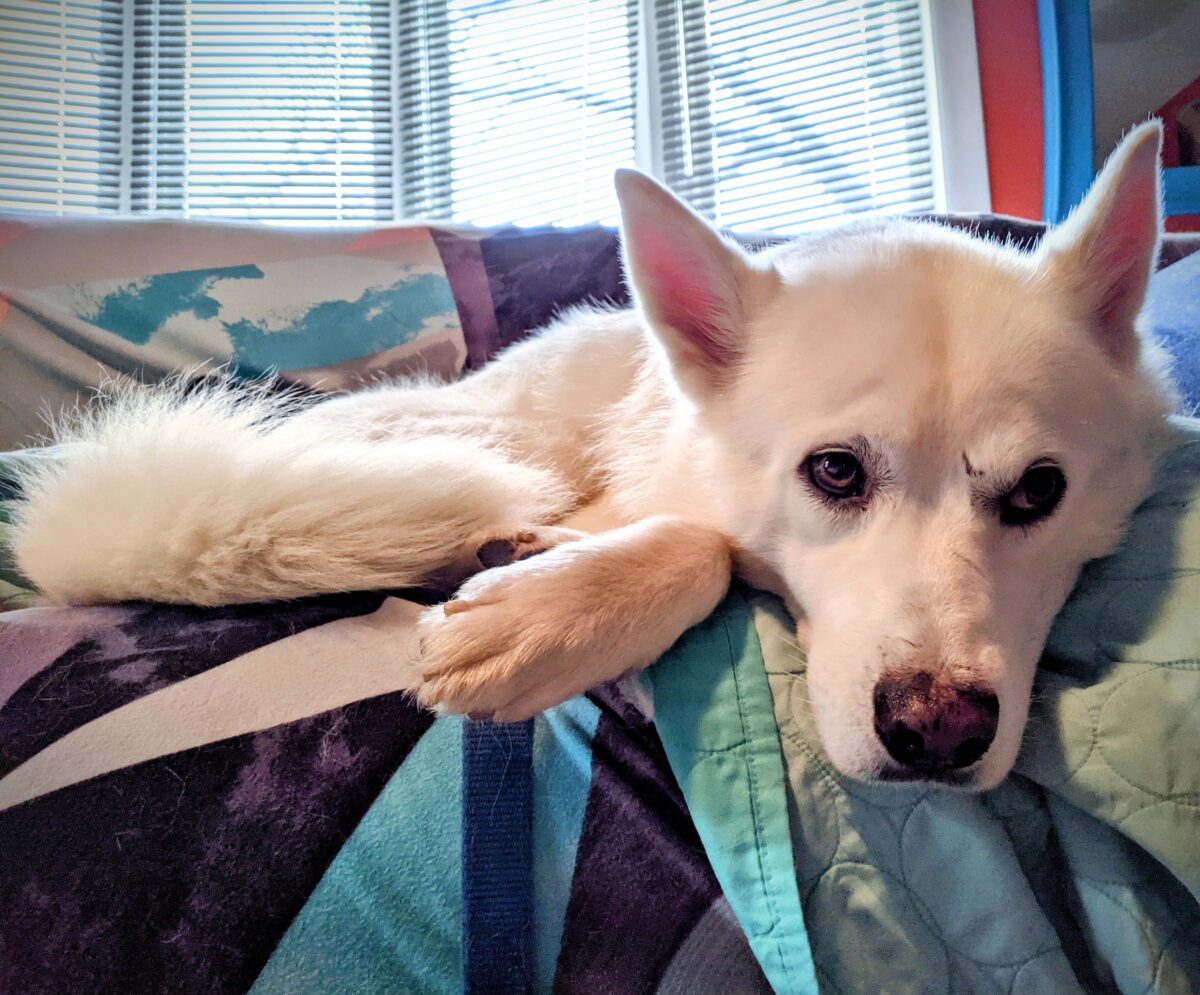 I arrived at my foster home with a limp and very tired. I LOVED furniture and got a huge smile on my face when I first got to lay on the couch. It was HEAVEN! After a few days with me, my foster mom started to notice my teefs looked fairly nice for an oldtimer and said "hmmmm".
On July 15, I went to my first vet appointment. First there was good news. The vet guesstimated me to be only 5! Practically a baby! I got 10 years of my life expectancy back at that moment!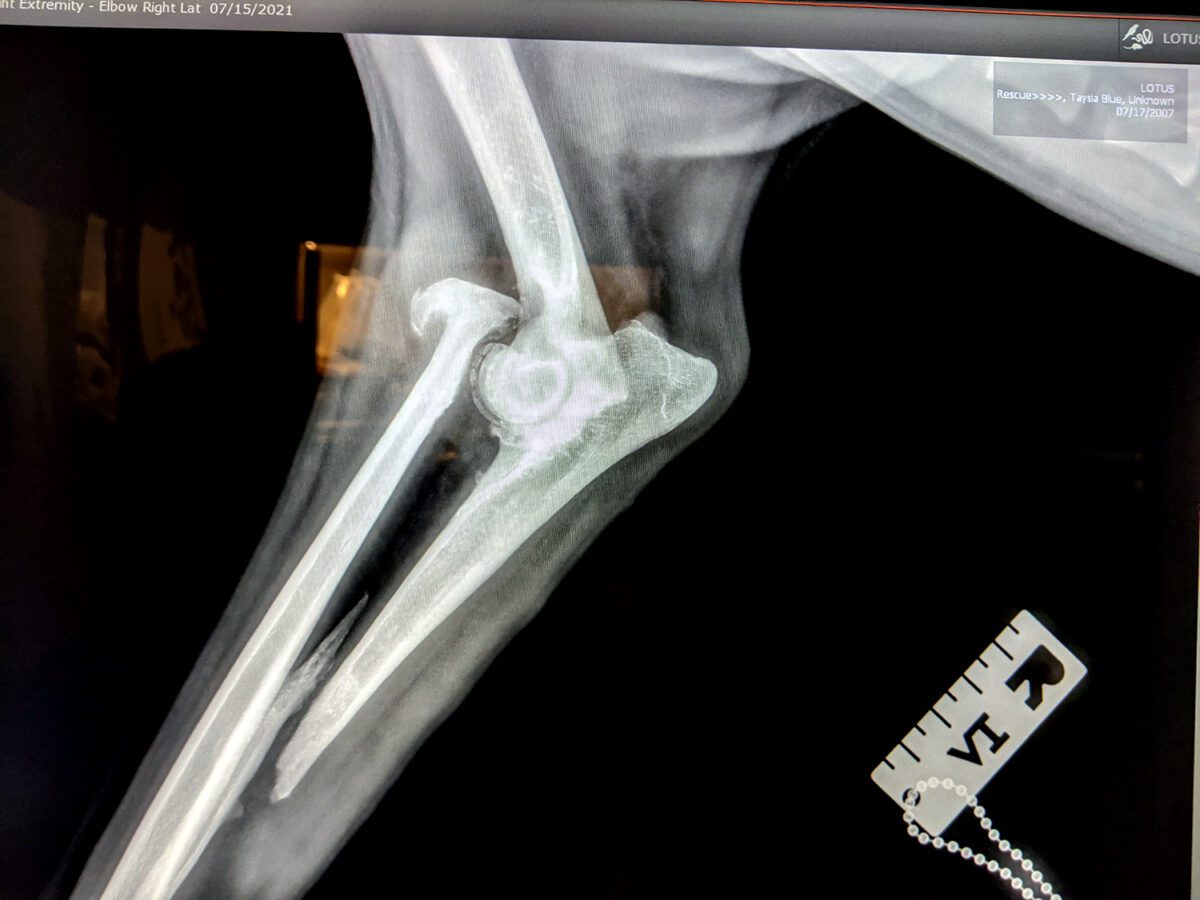 Then came the bad news. My leg was x-rayed to see why I was limping. To everyone's surprise, I had a bad fracture and my elbow was very dislocated. The vet called the x-ray "impressive", but not in the good way. I had  arthritis setting in so they thought it was broken for a very long time. Everyone was also surprised how sweet and nice I was despite the pain I was in!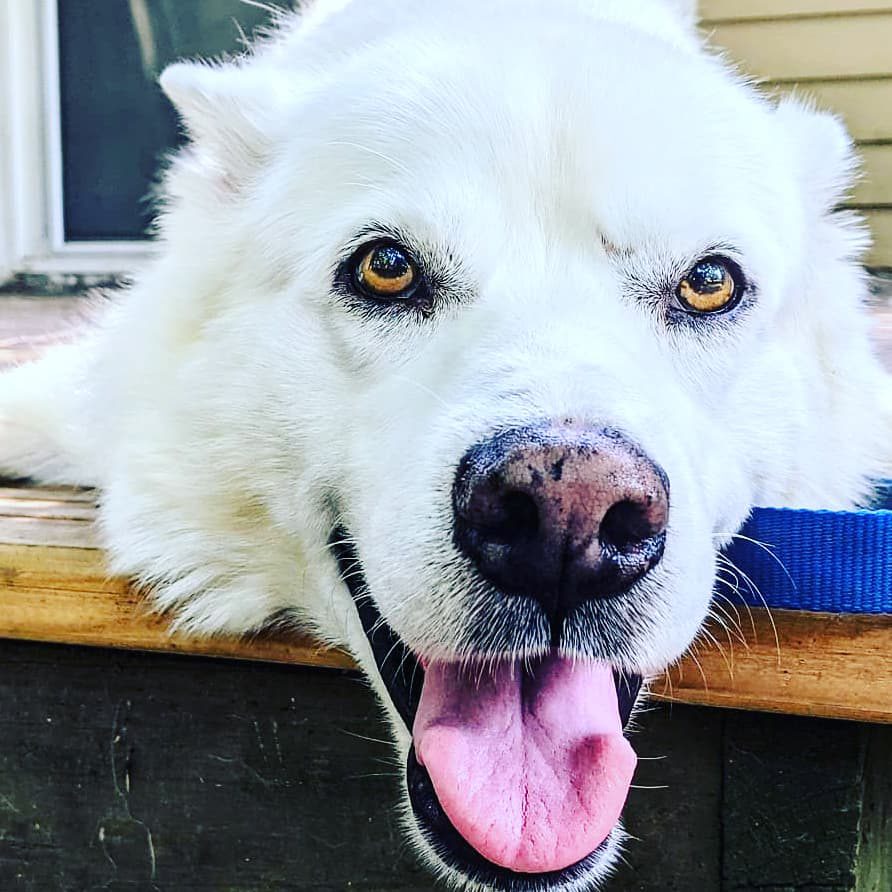 The rescue talked to an orthopedic specialist surgeon who said he'd never seen such a terrible x-ray. He showed it to his partners and they were shocked. My injury happened so long ago my leg was trying to grow more bone to create a new joint. (Aren't bones cool?!) They could cut off the radial head and put a plate on the fractured bone, but there was no guarantee it would give me comfort or mobility. I might still be in pain my whole life. So it was determined amputation would be the easiest and most comfortable.
My foster family had another very special husky mix dog before, Takoda, who had a leg amputated back in 2010. Because of Takoda they learned a lot about tripawds. So tripawd dogs and even kitties have stolen a big chonk of their heart. My foster family was sad I had to have amputation surgery, but knew I'd be so much happier finally living a pain-free life! They felt prepared to handle this unexpected twist of fate and foster mom looked up Tripawds.com like she did 11 years ago to refresh her three-legger knowledge.
Then my foster mom happened to see a post on Facebook about the Tripawds Foundation, and how the Tripawds Rescue Fund helps public shelters and nonprofit rescue organizations raise funds for animals in need of amputation while waiting for adoption. Foster mom helped Taysia Blue Rescue raise money for my surgery and get a grant from Tripawds.com. This was extra helpful since my surgery was not expected!
I had to get neutered and build up my overall healthiness before I could do my amputation surgery. I finally had surgery on August 17, 2021. The vet thought I'd go home that day but I stayed for two nights! The vet people were very nice to me, even though they called me a dramatic husky and kind of a goober.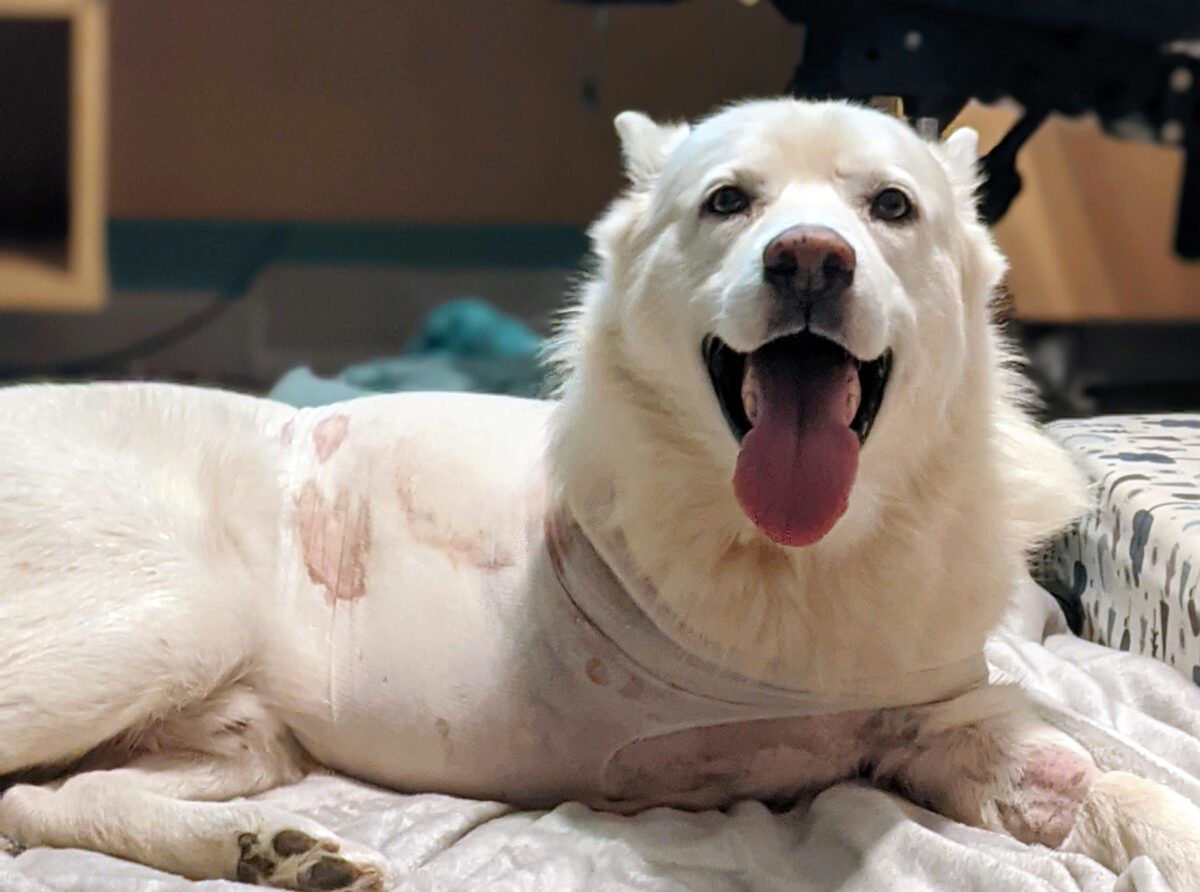 It's now 6 days since my surgery and I'm taking it very easy while I heal. Food and beds are two of my favorite things and I'm enjoying both of them.
I will update soon!
— Lucky Lotus, New Member of the Tripawd Gang
P.S. I am adoptable. I'm currently interviewing extra special hoomans who might want to be my new family and show me how great life can be. I am extremely sweet and loyal and love big and little people. Dogs are ok, but hoomans really are my thing. You can read more about me and apply to make you mine here.